Ladies Surficise 2021 !!!!!!
If you obey all the rules, you miss all the fun.
SURFICISE 2022 – SORRY GUYS IT'S FOR LADIES ONLY!
€140 for 4 week term
Calling all you ladies out of the Gyms and into the outdoors for a nouveaux twist on getting that beach bod.
Join our surf instructor team on the beach at Inch for a combination of Yoga, Surf Stronger toning exercises and surf time!
Don't be afraid to try something new this year and if you've never surfed before, even more of a reason to take to the seas.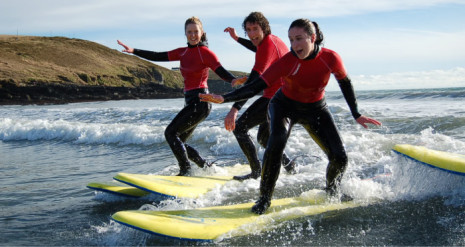 Ladies Surficise is back for 2022. Its is based on us being out of lockdown but it looks like we will so we are taking bookings. We have very limited numbers. Starting Monday 30th May@ 19:30hrs .
A mix of surfing,cardio and yoga. Get in touch with the ocean ,chill ,look great and feel great. No surf experience in any way required.
1hr 30 mins weekly on Monday evenings from 19.30hrs to 21:00hrs.  €140  for a 4 week course where you learn to surf from scratch.
Time will change later in the season as the evenings get longer. If the weather is too inclement we will rearrange for another evening.
Time in water might be cut short also due to decisions made at the time while in the sea due to changing conditions… We are at the mercy of the waves and wind and will conduct the class in the safest manner.
Get ready to smile as surficise is awesome.
Course1: Monday 30th May,6th,13th, 20th June, or Thursday 2nd, 9th, 16th, 23rd June 2022
Course2: Monday 27th June, 4th ,11th, 18th July or Thursday 30th June,7th,14th,21st July… 2022
Course3: Monday 25th July, 1st,8th,15th August or Thursday 28th July,4th,11th,18th August  2022
Course4:   Monday 22nd, 29th August 5th and 12th September 2022
We bring you through the basics of surfing , from the beach to surfing a wave. You will also learn about the ecology of the area and sea safety while all the while your mind and body get toned.
Each week we will lead you to the ultimate goal of riding a wave and actually surfing
Wetsuits boards instructors provided. Booties could be a good idea to bring with you too. Booking is essential .Book by mailing swellsurfschool@gmail.com or call 0879803206. A deposit needs to be paid to ensure your booking.
All equipment (except Booties) and wetsuits included so just bring yourself, a clear mind to have fun be chilled and catch a wave. If you own your own suit you can bring it.