Surf Camps
"the best surfer out there is the one having the most fun"
SUMER CAMPS 2019
Come join us on the  Beach this summer for our "5 day Surf Camp" where you will experience the thrill and excitement of surfing. We will provide all the gear and give you all the tips you'll need to catch your own wave.

Not Just a camp its building blocks for their lives done through the beauty of the sea
We are located on the picturesque Inch beach which is less than 10 minutes drive from Midleton Our school is approved by the Irish Surfing association which means that we are fully insured and all our crew are qualified Surf Instructors and Beach Lifeguards and trained in child protection and code of ethics.
Get your kids out of the house and down to the beach in an action 5 day packed summer camp with Swell Surf school. This year we have 6 weeks of camps. Last two weeks of July and all of August.
At the camp the kids will learn how to surf with our instructors. They will learn about sea safety as well as sea life and the local ecology of the area through going on coastal exploration.
Confidence will grow as they interact and pick things up along the way. Our instructors will also teach various little things they have learnt and pass on there experiences, stories of far fetched travels , its not just a camp its building blocks for there lives ahead all done through the beauty of the sea.
Our camps are heaps of fun and everyone comes away with smiles on there faces.
7-13 yr olds 15th July 2019- 19th July 2019  10am to 13.00hrs
10-15 yr olds 22nd July 2019 – 26th July 2019 10am to 13:00hrs
7-13 yr olds  29th July 2019  – 2nd Aug 2109 10am to 13:00hrs
10-15 yr olds  5th Aug 2019 – 9th Aug 2019 10am to 13:00hrs
7-13 yr olds 12th Aug 2019 – 16th Aug 2019 10am-13:00hrs
10-15 yr olds 19th Aug 2019 – 23rd Aug 2019 10am-13:00hrs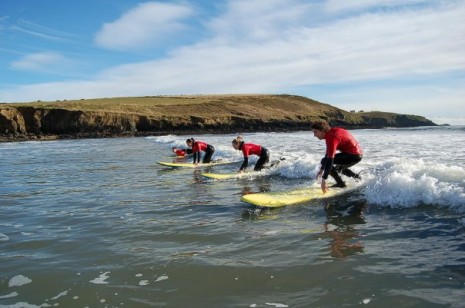 ACTIVITIES INCLUDE
Water Safety instruction
Land Based Instruction and surf theory
Coastal exploration in our kids gully zone along with our awesome sea ecology section here they learn about marine life.
SURF TIME – the real deal where you get to put all you've learnt into action in the water. All teens and groms must have basic swimming ability.
Beach Games and land based activities to get everyone involved a great confidence booster gets everyone engaged

Stories passed on by our instructors and tips picked up over seas ,surfing the world and here on Inch beach. There knowledge also of the local coastline plant life marine life goes down a treat.
A packed lunch and shoes/trainer that can get wet are required. everything else is included.
€160 per week plus 10% family discount for two or more kids.
Camps run weekly Monday to Friday from July 15th to August 23rd 2019
kids joining in for the day on a camp is available @ €40  per day. 
Pre-booking is essential as places are limited. Mail swellsurfschool@gmail.com or call 0879803206 to book. A 20% deposit is required at time of booking. Ages of camps are a guideline we will accommodate kids into the different weeks. Kids are with our instructors at all times.