New "Must Do" activity at Swell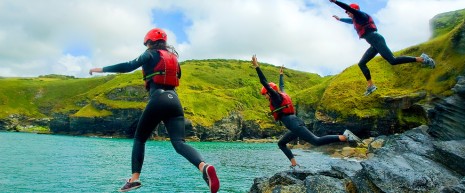 11th June 2013 by jenny
One of the best ways to explore the coastline is quite simply to jump in.
Exciting and exhilarating, this one is a real adventure!
JUST HOW MUCH ADRENALINE CAN YOU HANDLE?!
We are now offering Coasteering at Swell. Coasteering is an action packed, adrenaline pumping adventure activity that takes place around the rocky coastline.
It is a combination of adventure swimming, exploring gullies and caves using the movement of the swell and traversing the lower level rocks to jumping sites.
You will be jumping from a height suitable to you, swimming through some amazing sea caves and exploring areas of the coast that you would never normally see.
We're now running 2hr Intro to Coasteering sessions BOOK NOW